DFW C.V (Av)

5886/16 of FA(A) 276
HISTORICAL MINIATURES JOURNAL ISSUE NUMBER 1
BY GEORGE GRASSE
BUILDING THE JAGER 1:48 SCALE RESIN GERMAN DFW C.V (Av)
PREFACE
The purpose of the this study is to document the process of researching the DFW C.V (Av) license-built two-seat biplane built by Automobil und Aviatik AG so that I could build and paint the Jager 1:48 scale resin kit with historical accuracy. When I first reviewed the aircraft I was bewildered by the available amount of data but the lack of conviction as to the camouflage. I quickly became discouraged until I decided to "back" into the camouflage problem by researching all of the German two-seaters in service just before and just after October 1916 to understand the application of the three-color camouflage scheme which I was convinced was used on at least the first Aviatik order and possibly the second. After that, in April 1917, Idflieg issued the "lilac" camouflage directive and I conceded that it was possible that later DFW C.V aircraft regardless of builder were thus camouflaged. I discovered all of the camouflage application techniques used on contemporary aircraft including the AEG C.IV, Albatros C.I, Albatros C.III, Albatros C.V, Albatros C.VII, LVG C.II, LVG C.IV, LFG Roland C.II, and Rumpler C.I. This does not exclude the fighter aircraft of the period but I don't mention them here except that they confirmed certain techniques as applied to two-seaters.
It was interesting to discover four "camps" of manufacturers each of which adopted their own interpretation of the Idflieg 3-color camouflage directive. Basically, the four "camps" are 1) Fokker (streaked); 2) Halberstadt (speckled); 3) A.E.G. (small patchwork); and 4) all of the others which I call the Albatros group (panels) and includes Albatros, Aviatik, Bayerische, D.F.W., L.V.G., L.F.G. Roland, and Rumpler. Within the latter group falls the subject of my 1:48 scale kit, namely Aviatik, and with it, the mystery of the particular panel scheme used. I had to understand and interpret photos of other manufacturers. I ended up with four uppersurface wing schemes, four uppersurface tailplane schemes, and two fuselage schemes. This leads me to believe that there could have been a practice of combining wings, fuselage, and tailplane in a combination of finished schemes which would account for diversity often seen in photos. Of course, aircraft with plywood veneer fuselage coverings were nearly all clear varnished. There are more undiscovered schemes and, of course, exceptions to terrain camouflage which includes the group of aircraft manufactured before terrain camouflage was formally introduced. These are the early two-seaters finished in "sky" camouflage. I have all of these schemes fairly well researched, sketched and/or diagramed but it is not necessary to present them here. This article is about the DFW C.V (Av) and selecting one aircraft from the first two production batches:
Oct 1916 150 aircraft C.5825 – 5974/16
Nov 1916 100 aircraft C.9005 – 9104/16
EARLY PRODUCTION
The Deutsche Flugzeug Werke GmbH (DFW) designed and built its Type 29 two-seat army cooperation aircraft officially becoming the prototype DFW C.V designed to meet Idflieg's new requirement for a two-seat army cooperation aircraft powered by the larger Class IV engine (200–300 hp range). It was type-tested and passed by Idflieg in Summer 1916. After problems were corrected, the prototype C.3302/16 passed the load test in August 1916 and the first batch for 60 aircraft (of which the three prototypes C.3300 – 3302/16 were a part) was placed by Idflieg. A second order for 40 (September 1916) and a third order for 240 (October 1916) brought the total to 340 aircraft; D.F.W. had reached its production capacity. So good was this third generation aircraft that in that same October 1916, Idflieg directed that no less than 775 more were ordered to be license-built by four authorized and well-qualified aircraft fabricators: Luft-Verkehrs-Gesellschaft (LVG) for 250, Halberstadt (Halb) for 75, Automobil und Aviatik AG (Av) for 150, and Bayerische Flugzeugwerke (Bay) for 300. This brought the total DFW C.V order quantity to over 1100 airframes. The Bayerische order was subsequently cancelled but new orders placed with Aviatik and the parent, D.F.W., made up the difference. By war's end, the number ordered and probably delivered was something over 3300 airframes, the most widely produced aircraft of the war.
PERFORMANCE
The DFW C.V was powered by a six-cylinder 200 hp Benz Bz.IV in-line water-cooled engine and, with this power plant, the C.V easily achieved all of the Idflieg requirements for the next, or third, generation of two-seat aircraft that would serve in FA and FA(A) units. Performance ceiling was about 5000 meters, climb to that altitude took 40 minutes, top speed was 155 km/hour, and a useful load capacity that could accommodate two crew, a few bombs, two machine guns, a camera, and radio/telegraphic equipment. As the war progressed, fourth generation two-seaters with improved performance appeared but the DFW C.V was still in production. The demand for advanced trainers caused several Idflieg orders to be placed for the C.V trainer version powered by the 185 hp Conrad C.III (Nag) 6-cylinder in-line water-cooled engine.
DFW C.V CHRONOLOGICAL REVIEW
Apr 1916: Idflieg issues its new "red-brown/dark green" camouflage directive
May 1916: probable date of the first flight of the Type 29 DFW C.V prototype (C.3300/16 likely)
Jul 1916: first date associated with earliest type testing
Aug 1916: prototype C.3302/16 passes the load test and 60 C.V airframes ordered by Idflieg; probable month in which Idflieg issues its revised "light green" camouflage directive
Sep 1916: first aircraft off the production line reach the Front for evaluation; 40 more ordered
Oct 1916: 240 ordered from D.F.W. and 775 more placed with license-builders: 21 DFW C.V aircraft at the Front
Nov 1916: Idflieg bans "ear" radiators, an "earmark" of early C.V aircraft; 100 more ordered
Dec 1916: 42 DFW C.V aircraft at the Front
Jan 1917: production ramps up; license-builders prepare for Typenprüfung (literally "type test)
Feb 1917: all license-builders pass type testing: 79 DFW C.V aircraft at the Front
Mar 1917: hundreds of airframes nearing completion at all builders
Apr 1917: Idflieg issues its camouflage "lilac" directive
THE AVIATIK DFW C.V (Av) LICENSE-BUILT AIRCRAFT
When Aviatik's DFW C.V aircraft passed their type testing in February, 350 airframes were on the books either completed or in production. The period from the first order placed in October 1916 to March 1917 probably saw the completion of most of the first order for 150. It is likely that all of these (C.5825 – 5974/16) were finished in the then-current three color scheme of dark green, red-brown, and light green. The Windsock Datafile 53 for the DFW C.V contains several photos of Aviatik-built C.V aircraft and includes a sequence of photos (59 to 79) exclusively devoted to these aircraft of which a total of 1350 were built. Only a few photos show the early DFW C.V (Av) with the appropriate "ear" radiators. However, determining the actual camouflage scheme from these photos is difficult.
The principle identification features of Aviatik DFW C.V aircraft were 1) the Aviatik decal logo in the center of the rudder cross, 2) Aviatik decal logo on the outboard face of the inner wing struts about one fifth from the bottom, 3) the stencil "D.F.W. C.V (Av)" on the right side of the fuselage near the nose just below the datum line, 4) the unique style of serial number on the rear fuselage under the horizontal tailplane in two lines with the year on a second line, and 5) Aviatik decal logo on the outboard face of the forward cabane struts.
By the end of April 1917, 341 C.V aircraft were in frontline service. This number included examples from all contractors, the license-built aircraft having passed their type testing in February 1917. Aviatik built 1350 C.V aircraft from October 1916 until the last order placed in June 1918. At best, the aircraft of the first two order batches would only have appeared in large numbers beginning in the Spring of 1917. When the first two Aviatik orders were placed, the 3-color camouflage scheme was in vogue and it is likely that most if not all of these two orders amounting to 250 aircraft were completed in this scheme, especially the first order which originated in October 1916.
FINISHING RESEARCH NOTES FOR THE KIT
These research notes are for building a Jager resin kit JMJA08 of a DFW C.V (Av). This Aviatik-built aircraft is the early version with "ear" radiators and claw brake as identifying features. An Idflieg directive issued in November 1916 banned "ear" radiators but it is not clear how this was applied. It may have only been applied to orders for aircraft after the directive date. Later built C.V aircraft had the radiator mounted above the engine, attached to the forward cabane struts. The claw break was usually eliminated in service. The kit's cowled engine is justified for cold weather operation.
The reason I selected this period for the DFW C.V (Av) is the likelihood that the camouflage finish was guided by the late-Summer 1916 Idflieg directive for the 3-color terrain camouflage of dark green (olive green), red-brown (rust brown), and light green (Brunswick green) which I would like to use. There is always the possibility that aircraft from these batches that survived into 1917 may have been re-finished in the 2-color "lilac" camouflage scheme dictated by Idflieg in April 1917. It is not know the extent to which aircraft already in the field were required to be re-finished and it is possible that those aircraft that required major repair may have been refinished in the 2-color "lilac" scheme. Photographic evidence is problematical.
After much research I have decided to finish the aircraft as DFW C.V (Av) 5886/16 of FA(A) 276 based on photo 59, page 16, of Windsock Datafile 53, dated 15 June 1917, flown by Unteroffizier F. Decker. Unfortunately, the observer is not known. It meets most of my criteria: 1) the unit is known, Flieger-Abteilung (A) 276; 2) at least part of the crew is known (the observer is not known); 3) it has Windhof "ear" radiators; 4) it is camouflaged in dark colors; 5) it has a fuselage marking of two differently colored interlocking triangles which is probably a personal marking; 6) it has a Parabellum machine gun mounted in the observer's cockpit (not a camera).
MODELING NOTES FOR THE JAGER 1:48 SCALE KIT JMJA08
Interior: plain varnished plywood including the sides and floor.
Pilot's Cockpit: the pilot's seat painted black or dark brown leather for the seat and varnished wood for the back. Seatbelts are off white with metal fittings. The seat is mounted on top of the fuel tank which is painted white metal. The main instrument panel is a rich mahogany. The two plain panels are metal painted camouflage dark green. The support bar running across the forward part of the cockpit is painted a pale gray green. The grip on the control stick is wrapped in brown leather but the metal part is pale gray green. Other components are painted black with metal straps in pale gray green.
Observer's Cockpit: the observer's gun ring is constructed of wood wrapped in leather. It has several mountings two of which are hand holds to turn the ring (see photos 17, 46, 56, and 103). The two other mountings are for the Parabellum machine gun (see photos 46, 64, and especially 105 for the gun). The internal bomb rack was on the right side of the floor and held four 12.5 kg Lance bombs which were released from the rack through two spring-mounted aluminum doors. There should be a map holder and map for the observer. The #8 former behind the observer was framed to support a fold up seat and the open space was covered by a piece of fabric probably in CDL finish.
Fuselage: serial number aft of the cross under the tailplane (see photos 59, 60, 65, 66, 67, 71, and 72). Upper tailplane support members painted in appropriate camouflage color; lower tailplane support members painted in the underside color. Paint an Aviatik decal in the center of the rudder cross (see photos 59, 60, 72, 77). Side mounted Windhof radiators on either side of the forward fuselage mark this aircraft as early production. Aviatik-built DFW C.V aircraft do not appear to have had the weight table stenciled on the left side of the fuselage under the pilot's cockpit (see photos 59 and 75, they are faint, and see below); flare pistol and flare rounds supplied by the kit are mounted on the left side of the observer's cockpit; add the Aviatik stencil "DFW CV (Av)" to the right forward fuselage just aft of the cowling and just below the engine access panel as shown in photo 76; note altimeter mounted between front cabane struts in photos 16, 17, and 103); note weighted radio antenna projecting from bottom of observer's cockpit (photos 25 and 37); appears to be the gas tank filler cap between the cockpits near to the port side per photo 46 (the kit has a recessed area in this location; Idflieg and/or Aviatik ID plate is possibly visible in photo 64 just aft of the forward center line louver panel; front aiming sight for the pilot's fixed machine gun is mounted on the left forward side of the engine cowl; the rear sight appears to be mounted on the rear portion of the engine cowl (photo 105 clearly shows the forward sight); paint the kickplate aluminum.
Wings: Paint Aviatik decals on the outside lower portion of the inner wing struts (see photos 59 and 79) and forward outside of the cabane struts; note wing walk area on left lower wing; wing struts have a reinforcing metal fitting to the bottom facing forward and appear to be painted a dark color (see photos 61-63).
Landing Gear: if the claw brake is installed, refer to photos 6, 16, and 25 for details; if a strut mounted generator is to be added refer to drawing scrap detail on page 17 and photos 62, 64, and 75); added the engine access step on left forward landing gear strut (photos 21, 103, and drawing on page 17).
Propeller: propeller laminations made with colored pencils; add decals in photos 61-64;
Weight Table (if applied):
Leergewicht 990 kg
Nutzlast 480 kg.
Zulässiges Gesamtgewicht 1470 kg.
Additional construction photos can be seen here: DFW C.V Construction Article
CAMOUFLAGE
The most significant feature of this aircraft is the camouflage scheme which I believe to be the 3-color scheme. Having studied most of the contemporary German aircraft in frontline service at the time the DFW C.V was introduced reveals four interpretations of Idflieg's 3-color camouflage directive. From sketches and drawings I have made to interpret photos, I have concluded that my DFW C.V was finished in the "Albatros" scheme which uses large swaths of color across the wings, fuselage, and tailplane. Most two-seater primary or license built manufacturers used this scheme including Albatros, Aviatik, Bayerische, LFG Roland, LVG, and Rumpler. Trying to fit the AEG, Halberstadt, and Fokker schemes to DFW C.V photos simply didn't work. To me, the best fit was the Albatros scheme. Available photos of the DFW C.V are mysteriously difficult to analyze as compared, say, to the Albatros C.VII which exhibits a distinct pattern. All of the colors used in the 3-color scheme are well reproduced by Misterkit World War 1 acrylic paints. This Italian company has, in my opinion, met the artistic criteria which is "the colors work for me". Here is what my working diagram looks like:
GEORGE'S WORKING DIAGRAM #4
<![if !vml]>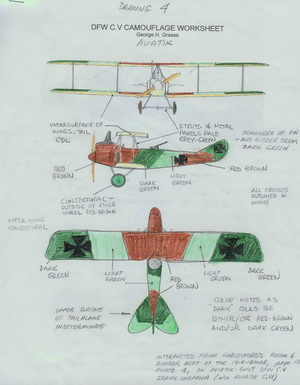 <![endif]>
PAINT COLOR SWATCHES
| | |
| --- | --- |
| | MisterKit MKGC05 Albatros Dark Green |
| | MisterKit MKGC05 Albatros Pale Green |
| | MisterKit MKGC01 Albatros Red Brown |
| <![if !vml]><![endif]> | Humbrol HUM071 Satin Oak |
| | Vallejo Acrylic Mix of VC0907 (Light Pale Blue Grey), VC0885 (Pastel Green), and VC0866 (Grey Green) |
Upper Surfaces: I used Misterkit colors for the uppersurfaces: MKGC05 Albatros Dark Green, MKGC04 Albatros Light Green, and MKGC01 Albatros Red-Brown. The three-color camouflage system consists of these three colors alternating swaths. The wing, fuselage, and tailplane patterns were designed to "fit" into an overall camouflage scheme so that when the aircraft is viewed from above, no one color dominates. In other words, a fairly disruptive pattern is presented. For the wings, a five-panel scheme is employed. Each wing half is divided into three relatively equal portions with the joined wing halves in a single color. Starting from the port outside edge, the first color is dark green followed by light green and then red-brown to the center. From the starboard outside edge, the first color is dark green followed by light green and merging in the center with the red brown of the port side.
Under Surfaces: clear doped linen; in this case, I used Humbrol's HUM071 Satin Oak.
Wing Struts: light gray green, a mix of Vallejo acrylic paints.
Landing Gear Struts and Airfoil: matched to clear doped linen using Humbrol's Satin Oak.
Wheel Covers: red-brown port outer, dark green port inner, dark green starboard outer, red brown starboard inner.
Serial Number: custom-made black decals using Micro Mark's clear/white decal sheet.
Personal Aircraft Insignia: two interlocking triangles; the upward pointing triangle is probably yellow or white; the downward pointing triangle is probably red or black; all outlined in thin black. I made two (one for each side) from a drawing I made and reduced to make a decal using Micro Mark's clear/white decal sheet. I had to hand paint the white triangle, the other being black.
Other Markings: Axial propeller decals based on photo 76, hand-painted Aviatik decals on struts and rudder as noted above, hand-painted manufacturer's and Idflieg ID plate on the port side just forward of the lower louvre panel in photo 64 (hand painted), and Aviatik model number "DFW C.V (Av)" (kit decal) on starboard side near nose just forward of the center louvre panel just below the datum line.
---------------------------------------------------------------------------------------------------------------------------------
REFERENCES
DFW C.V Windsock Datafile 53, P. M. Grosz, Albatros Publications Ltd, Chiltern Park Estate, UK, 1995. Primary source.
Schlachtflieger!, Rick Duiven & Dan-San Abbott, Schiffer Military History, Atglen, PA, 2006. Contained a few interesting photos of the DFW C.V as used in Schusta/Schlasta units.
The Colours of the Halberstadt Built DFW C.V, Parts 1, 2, and 3, Dan-San Abbott, 1999, from "The Aerodrome" internet website. Contained some information on DFW C.V aircraft in general.
GERMAN PILOT 1916
1:48 SCALE BY HECKER & GOROS
GO TO?