HISTORICAL MINIATURES JOURNAL ISSUE NUMBER 5
PUBLISHED BY GEORGE GRASSE
MODELING TIPS
MILITARY MINIATURES
Tip 19) Using pastel chalks to finish a figure is easy but be careful. I've been using pastel chalks for years as a supplement to painting usually only on uniforms
and equipment that need to show a little more "in-the-field dust". You can buy a set of pastel chalks at any art supply store. You only need a small set and the box they come in is about 3-1/2 to 4" wide by six inches. You will
also
need a couple of make-up brushes easily found in any personal care section of a drugstore or
large market
. I use a large 3/4" round for overall brushing and a small 1/4" inch flat brush for small places such as the bottom of trousers on 54mm figures.
The color most often used is flesh
tone. It is an excellent highlighter but too much will make the figure's clothing look really dusty unless that's the effect you want.
A light dusting will enhance an already-highlighted area. Dabs with a small brush into recess can supplement shadows.
Here's a photo of my
worn and weathered
set.
As you can see, the lighter colors get the most use. Of all the darker colors available, I find that rust brown is used most often especially on American Civil War uniforms.
WORLD WAR I AVIATION MODELING IN 1:48 SCALE
Tip 20) Cockpit detailing is either a burden or a challenge. For me, I accept it as a challenge. I do the research and find as many cockpit photos and illustrations as there are available to me. I check reviews and kit builds when I find them in a modeling magazine or on "the net". Much of what I install is based on fact and I try and scratch-build the components as realistically as possible. In many cases, I add components and wires just to "clutter up" the cockpits. Of course, if you are going to add a crew figure, take the time to see whether or not the cockpit component will be seen. The photo on the left below are, left to right, instrument panel for an AEG C.IV, the cockpit floor with seat, rudder bar, controls, and scratch-built floor compass for a Fokker D.VII, and the instrument panel for a Fokker D.VII. The photo on the right looks into the pilot's instrument panel on an Albatros C.X; note the scratch-built compass mounted in the lower right wing with a semi-circular airstream hood.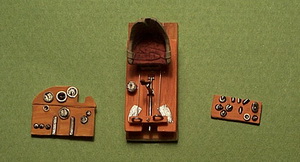 Tip 21) Engine detailing can also be a burden or a challenge. Again, I prefer the challenge and add as many engine details as can be seen once it is installed. You can make valve springs, spark plug wires, pipes, and pumps from scratch but be sure they are visible because your time is valuable. Study photos over and over again. Black and white photos are good for finding details. Field modifications did occur especially to coolant pipes. Note that there were several manufacturers of engine components especially exhaust pipes. Color photos of engines in museums and private collections are necessary for painting. Try to paint the engine's components in slightly different shades even if the painting guide says "black". For example, the engine crank case is usually aluminum and, for the most part out of sight. The cylinders can be a slightly metallic black color. The valve covers can be a slight variation of the metallic black highlighted with steel dry-brushing. Wires can be dark gray just to make them stand out. Usually, two to three items for the engine have to be scratch-built because the kit's version is wrong or not good enough to use. In many cases, the kit engine does not have the details in the first place. For example, note the front end of a Mercedes D.III engine and all of the small components and pipes usually not found in a kit.
---------------------------------------------------------------------------------------------------------------------------------
GO TO?