Albatros C.III C.4187/15 of FA(A) 218
HISTORICAL MINIATURES JOURNAL ISSUE NUMBER 9
BY GEORGE GRASSE
BUILDING THE 1:48 SCALE SPECIAL HOBBY GERMAN ALBATROS C.III, OF FA(A) 218, EASTERN FRONT 1917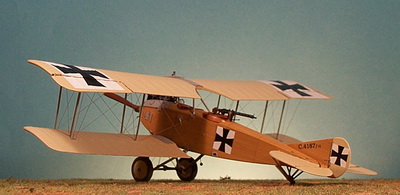 KIT DESCRIPTION
The 1:48 scale WW1 airplane covered in this issue is the recently released Special Hobby injection kit of the Albatros C.III that was built in significant numbers and used in all Feldflieger and Feldflieger (Artillerie) Abteilungen in the army cooperation role (reconnaissance, photo, and artillery spotting). It could carry a small internal bomb load of four 12kg bombs that were most often used against targets of opportunity. The crew of two each had a machine gun: the pilot's fixed forward firing Spandau and the observer's flexible Parabellum.
The kit is primarily injection molded plastic including the fuselage (2 halves), wings (with separate ailerons), tail unit (four pieces), wheels, cockpit details, propeller, wing struts, gunner's machine gun ring, landing gear struts, Mercedes D.III 160 hp engine, and an axle-mounted claw brake. A photo-etched brass sheet includes a number of finely detailed parts including especially appreciated rigging turnbuckles and internal bomb chutes. Resin parts include the main fuel tank and two engine exhaust stacks. Decals will build three different aircraft: C.106/16, C.722/16, and C.736/16. Only C.722/16 is from an identified unit, Kampfstaffel 20 or Kampfgeschwader 4 (Kasta 20/KG IV).
Not supplied in my kit are a number of items which I will detail in the step-by-step Construction section below. I used the following after-market accessories:
Copper State CS0105 Prop Bosses
Copper State CS0122 German Gauge Set
Griffon Models GMBH03 Brass Tube .8 mm OD, .3 mm ID (machine gun barrel extensions)
I have decided to finish the aircraft as OAW-built C.4187/15 of FA(A) 218 serving on the Eastern Front in mid-1917 flown by Uffz August Lamle (P) and Ltn d R Fritz Leitzow. Credit for choosing this aircraft goes to Terry "Taz" Phillips whose two-installment presentation of the Leitzow albums in Over the Front included excellent photographs of aircraft flown by FA(A) 218, especially Albatros C.III (OAW) C.4187/15.1
Albatros C.III C.4187/15, left-front overall view with Ltn d R Leitzow (O) on the left and Uffz August Lamle (P) on the right. Interesting study of the flight gear of the crew. Note the single vertical engine louvre between the two crew members. This was a distinguishing feature of OAW-built Albatros C.III aircraft. The finished scheme of the aircraft is varnished plywood fuselage and fin, clear doped linen (CDL) flying surfaces, and light grey-green metal components. Struts are metal tubing covered with wood fairings wrapped in linen and varnished. This would account for the slightly lighter color of the struts than the metal parts.
Albatros C.III C.4187/15, left-side view with Uffz Lamle in the pilot's cockpit and Ltn d R Leitzow in the observer's cockpit. The box suspended between in inner left wing struts is a barograph, an early aviation "flight recorder". This Albatros two-seater was powered by a Mercedes D.III 160 hp in-line six-cylinder engine. Other C.III might have a Benz Bz.III 150 hp in-line six-cylinder engine. The main difference between the two is the Mercedes exhaust is on the right side of the engine, the Benz is on the left. Markings on the struts indicated their position, e.g., links hinten aussen

or LHA (left rear outer).

Albatros C.III C.4187/15 photos above credited to Terry "Taz" Phillips and appeared in Over the Front, "From the Albums" series, Volume 22, Number 1, Spring 2007, page 89.
ALBATROS C.III DEVELOPMENT
In the years preceding the World War I, Germany's air force, Fliegertruppe, was equipped with a variety of A Type aircraft almost exclusively of the two-seater Taube design. A classification scheme for aircraft types was developed as is shown in Table 1, below. Of particular note are the crew seating arrangement and lack of armament for the A and B Types. Shortly before the war, during the course of 1913, the Type A configuration was considered obsolete primarily because it was under-powered and difficult to maneuver aerodynamically because it used wing warping and not ailerons. As a result, in 1913, Idflieg issued specifications and orders for the B Type two-seat biplane general purpose army cooperation aircraft. Often, these are referred to as second-generation aircraft. Five manufacturers responded and the following orders were given to LVG (112 aircraft), Aviatik (98), Albatros (48), DFW (18), and AEG (2).2
Table 1: German Aircraft Types
| | | |
| --- | --- | --- |
| Type | Major Distinctions | Seating Arrangement |
| A | single-engine, two-seat monoplane, unarmed | observer front, pilot rear |
| B | single-engine, two-seat biplane, unarmed | observer front, pilot rear |
| C | single-engine, two-seat biplane, observer armed (pilot later) | pilot front, observer rear |
When Germany went to war at the beginning of August 1914, the majority of aircraft in the 33 Feldflieger-Abteilungen were B Types, 173 of them to 44 A Types. By the end of the year, there were 283 B Types and 53 A Types. Armed as they were with small arms, grenades, and darts, these aircraft exhibited limited capability. Even before the war, Idflieg requested the specific development of a new C Type of aircraft with, among over capabilities, was armed with a swivel machine gun for defense. The Air Ministry was not interested then but events of 1914 caused a change and the C Type specification was issued.3
It took a number of months to develop C Type drawings to incorporate the concepts of aerial machine gun defense, aerial photography, light bomb carrying capacity, larger engines, and new production techniques. So, for some time, well into 1915, A and B Types were the predominant aircraft in the FFA units. Table 2 shows strength of these types over the first year of the war well into 1915 before the first C Types were available for deployment.
Table 2: Frontbestand for Major Types at the Front August 1914 to Dec 19154
Two-Seater Frontline Aircraft

1914

1915

Aug

Oct

Dec

Feb

Apr

Jun

Aug

Oct

Dec

A Types

44

36

53

65

56

37

13

16

13

B Types

173

209

283

379

581

589

580

597

396

C Types

0

0

4

0

2

91

181

318

660

E Types

0

0

0

0

0

4

22

58

107

Total of these Types

217

245

336

444

639

721

796

989

1176
Developing the third generation aircraft or C Types took quite a bit of time as Table 2, above, shows. Not until June 1915 were there substantial deliveries of the first C Types. All of these early C types were of mixed armament arrangements. The Aviatik C.I, for example, retained the tandem seating with the pilot in the rear seat. The observer was given two machine guns each of which moved along their own rail but fired in defense amongst wings, struts, and wires, the front of the aircraft and the pilot notwithstanding! The Albatros C.I, however, purposely re-arranged the seating and introduced the rear cockpit rotating turret which greatly magnified the defense capability of the aircraft.
The introduction of the E Types in the form of the Fokker E.I and Pfalz E.I fighters with a synchronized forward firing machine gun immediately changed the configuration of the C types which could now have a synchronized forward firing Spandau for the pilot. This arrangement was incorporated in the next generation of C types and among the best was the Albatros C.III introduced in late 1916 and the subject of this journal article.
ALBATROS MAJOR CONSTRUCTION NOTES
The Albatros C.III was similar to its predecessor the, the Albatros C.I and refined many of that aircraft's features. The fuselage was a wooden shell with main longerons plywood-covered resulting in flat surfaces for the sides and bottom but a slightly rounded profile for the top decking. The surface was finely sanded and coated with varnish several times giving it a honey, yellow-brown appearance. All flying surfaces including vertical and horizontal tail components were fabric covered, highly doped and clear varnished. The engine compartment was largely surrounded by sheet metal with metal access panels and engine louvres. These were typically painted a light grey-green which over the course of the war became darker in shade and eventually evolved into the Luftwaffe's RLM 02. Depending on engine availability during the production sequence, the aircraft could be fitted with either the Mercedes D.III or Benz Bz.III.5
ALBATROS C.III PRODUCTION & DEPLOYMENT
The Albatros C.III was built by Albatros Flugzeug-Werke or its subsidiary Ostdeutsche Flugzeug-Werke (OAW) and under license by Bayerische Flugzeug Werke (Bay), Deutsche Flugzeug Werke (DFW) , Hanseatische Flugzeug Werke (Hansa), Linke und Hoffmann Werke (Li), Luftwerkers Gesellschaft (LVG), and Siemens-Schuckert (SSW). Peter M. Grosz is credited with making available German aircraft serial numbers, among other types of data and photographs, through the great number of monographs published by Albatros Productions. Production orders and serial numbers for this aircraft appeared in Albatros C.III Windsock Datafile 13 (WDF013) in 1989, second edition 1999. Nearly 3000 Albatros C.III aircraft were built during the course of the war of which 796 were purpose-built for combat. All of the others were built as trainers well into 1918. Of importance to this article are the combat aircraft and Table 3 below shows the order status taken from WDF013 and presented here.6
Table 3: Summary of Albatros C.III Combat Aircraft Orders and Serial Numbers
| | | | | |
| --- | --- | --- | --- | --- |
| Month Ordered | Order Qty | Serial Numbers | Serial Qty | Builder |
| Nov 1915 | 44 | C.2060 - 2103/15 | 44 | Albatros |
| Dec 1915 | 200 | C.4000 - 4199/15 | 200 | Albatros and OAW 7 |
| Feb 1916 | 200 | C.100 - 199/16 | 100 | Albatros and OAW |
| | | C.722 - 799/16 | 78 | Albatros and OAW |
| Mar 1916 | 72 | C.650 - 721/16 | 72 | Bayerische |
| Apr 1916 | 30 | C.1375 - 1404/16 | 30 | Albatros and OAW |
| Jun 1916 | 200 | C.2273 - 2372/16 | 100 | Albatros and OAW |
| Jul 1916 | 50 | C.2124 - 2173/16 | 50 | Bayerische |
| Subtotals | 796 | | 674 | |
| ? | ? | ? | 122 | ? |
| Totals | 796 | n/a | 796 | n/a |
Note that 122 aircraft serial numbers are unknown 22 of which are short for the February 1916 Albatros/OAW order and 100 are short from the June 1916 Albatros/OAW order. In reviewing all of the known German C Type serial numbers from 1915 to 1916, I found 2,513 unknown serial numbers for 1915 and 5,552 for 1916. This is a total of 8,065 C Type serial numbers not associated with any known aircraft.8
When the Albatros and OAW manufacturing facilities began production of the Albatros C.III, it took several months before the first samples could be distributed to the frontline Armee-Flugparks. From there, distribution to units would be made on a need to have basis, e.g., replacement for a damaged, crashed, or lost-in- combat aircraft. As Table 4 below shows, Albatros C.I and C.II two-seaters were the dominant aircraft available to the Fliegertruppe from early 1916 until mid-year 1916 when newer types were being introduced. These aircraft were the new generation with improved, high-performance engines and superior aerodynamic characteristics such as the DFW C.V, Rumpler C.IV, LVG C.V, for example. Their numbers are summarized in the "Other C-Types" line and note how their number geometrically increases from frame to frame as the early Albatros C Types fall off. Note especially the percentages at the bottom of the chart.
Table 4: Frontbestand for Major C-Types at the Front February 1916 to June 1917
Two-Seater Frontline Aircraft

1916

1917

Feb

Apr

Jun

Aug

Oct

Dec

Feb

Apr

Jun

AEG C.I

34

34

0

1

1

1

1

1

0

Ago C.I

22

15

23

16

9

8

5

1

0

Albatros C.I

349

213

165

143

125

90

52

37

46

Albatros C.III

51

208

300

354

320

320

214

174

107

Aviatik C.I & C.Ia

161

150

219

183

177

110

63

27

12

Aviatik C.II

7

6

0

0

0

22

62

50

34

LVG C.I

25

11

4

5

1

1

0

1

0

LVG C.II

214

249

255

220

195

155

87

45

20

LVG C.IV

1

1

1

27

60

76

58

39

14

Rumpler C.I

67

120

144

202

231

190

145

107

55

Rumpler C.Ia

-

-

1

-

2

1

1

52

162

Other C-Types

3

22

71

151

366

534

787

1077

1516

Total C-types

934

1029

1184

1302

1487

1508

1475

1611

1966

Albatros C.I %

37.37

20.70

13.94

10.98

8.41

5.97

3.53

2.30

2.34

Albatros C.III %

5.46

20.21

25.34

27.19

21.52

21.22

14.51

10.80

5.44

Albatros C.I & C.III %

42.83

40.91

39.28

38 17

29 93

27 19

18.04

11.03

7.78
This particular Albatros C.III (C.4187/15) was a "frontline" two-seater operated by FA(A) 218 on the Eastern Front as late as Spring 1917. This speaks well for the longevity of the C.III series but one has to note that at this stage in the war, it was useful only on those fronts with little or no appreciable enemy air opposition.
EASTERN FRONT HISTORICAL BACKGROUND SPRING 1917
For Germany, by April 1917, the East Front (c. 132 divisions) had grown in size to nearly that of the West Front (c. 151 divisions). The composition of the East Front force was 82 German, 43 Austro-Hungarian, 3 Bulgarian, and 4 Turkish divisions. Opposing the Central Powers was a line of Russian armies from the Baltic to the Black Sea with a relatively small residual contingent of Rumanian divisions on the southern-most Rumanian Front anchored by Russian armies.
FA(A) 218 was based at Baranowicze 9 which is referred to on Google maps as Baranavichy but appears on German maps of the period as Baranowicze. This places FA(A) 218 in the Armee-Abteilung Woyrsch sector just north of the Pripet Marshes with six German and one Austro-Hungarian infantry divisions directly opposed to the Russian 2nd Army with some elements of the Russian 10th Army to the north and Russian 3rd Army to the south.
MAP OF THE EASTERN FRONT 1917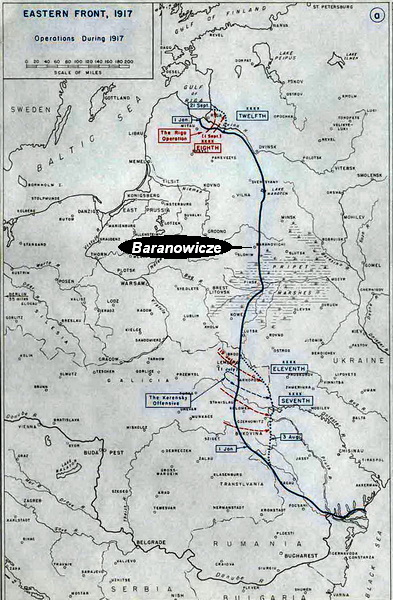 This is Map 41a taken from The West Point Atlas of American Wars, Volume II, 1900-1953.
Although the Oberst-Heeresleitung (OHL) strategically believed that the Eastern Front would never be the decisive front of the war, it is rather astounding to note the great number of resources devoted there. By March 1917, with the overthrow of the Czar, it was felt by OHL that Russia would soon take itself out of the war considering its political turmoil and near-collapse of logistics and morale that kept the armies in the field. On the other side, however, the situation was almost as bad. The famous phrase "shackled to a corpse" refers to the dead-weight of the Austro-Hungarian military forces on the Eastern Front that matched the opposing Russian Army in near-fatal logistical collapse and troop morale; it was a struggle that was over their heads, so to speak. Germany, therefore, had to prop up its ally and this diverted rather large forces that could have been used on the decisive Western Front.
At best, Germany could only stabilize the Eastern Front. There were offensives here and there but none as in 1914 and 1915 when substantial territories were gained. These were executed with the idea of stabilizing the military balance and, of course, propping up the Austro-Hungarian field armies. The Brusilov offensive in 1916 very nearly divided the Eastern Front with the idea of separating German from Austro-Hungarian forces. The Central Powers prevailed but at the cost of consuming all their strategic reserves. However, several advantages accrued to the Germans on this front. First was the perpetual rotation of units depleted from combat in the West and moved to the East for rebuilding and training of replacements. These troops would eventually play a major role in the final German monster assault, Kaiserschlacht, in March 1918. Second, and because the Eastern Front was the poor sister of the Western Front, left-over, obsolescent aircraft, for example, found new life on the Eastern Front were they were opposed to, at best, equal aircraft put up by the Russians.
In this light, the Albatros C.III probably lasted one year, at least, beyond its expectant military combat life but proved more than capable given its Russian opponent. There were fewer Russian fighters and anti-aircraft defenses so the Albatros C.III operated quite well here. Many German FA and FA(A) army-cooperation units were scattered up and down the immense Eastern Front serving with the German and Austro-Hungarian armies. In fact, the aviation situation was so favorable to Germany that no permanent Jagdstaffeln (Jastas) were stationed here. Rather, obsolescent fighters such as the LFG Roland D.II "Haifisch" (shark) were attached in ones and twos to FA and FA(A) units directly for local patrol defense and escorting.
FLIEGER-ABTEILUNG (ARTILLERIE) 218
The origins of FA(A) 218 begin with its predecessor, Feldflieger-Abteilung (Artillerie) 218 (usually abbreviated AFA 218 in German sources but FFA(A) 218 in English sources) which was authorized on 3 January 1916 and activated on 11 February 1916 as a result of the need to create specialized artillery spotting units that would be assigned to Armeekorps or Reservekorps.10 Of course, their duties involved much more than artillery spotting and gradually expanded to include short range reconnaissance, bombing, aerial photography, and rudimentary infantry contact patrols. The creation of Artillerie Feldflieger Abteilungen began in August 1915 and continued on into1917 as the need rose. Equipped with four zweisitzer (two-seater) aircraft, AFA 218 was assigned to the Eastern Front.
FA(A) 218 was created as a result of the re-designation of Feldflieger-Abteilung (Artillerie) 218 on 17 January 1917. The change was in name only but in keeping with the complete reorganization of the Fliegertruppe into Luftstreitkräfte begun in the Fall of 1916 under the leadership of General of Cavalry Ernest von Hoeppner, Kommandierender General der Luftstreitkräfte (Commanding General of the Air Force) or Kogenluft, for short.
MODEL CONSTRUCTION
I have relied on a number of references for details especially 1) Windsock Datafile 13 Albatros C.III (WDF013 for short, the revised 1999 edition) by Peter M. Grosz; and 2) a photo essay by Terry "Taz" Phillips in Over the Front Volume 22, Issue 1, entitled "From the Albums / Ltn. Fritz Leitzow, Part II" (see photos above). As with all aircraft I build, I maintain a "build" page for each one in my "World War I Aircraft in 1:48 Scale" section.
ALBATROS C.III C.4187/15 CAMOUFLAGE FINISH
Albatros aircraft were finished in "natural colors". That is, the wood fuselage was sanded and varnished to which was added several coats of varnish and shellac. This resulted in a warm, honey brown color. However, there are different schools of thought on this finish. To review: period photography tended to portray any "yellow-like" color in dark shades on the film of the day. This led some to believe that the wood fuselage was stained a dark red-brown so as to compliment the two- and three-color German schemes of 1916. I personally don't believe this to have happened this early in the war (1916). There may be a case for 1917 and later. But for now, my interpretation is that no significant additives or pigments were used on the wood fuselage to deliberately change its natural color.11
At this time, 1915 and into early 1916, Albatros C.III aircraft had their wings finished in clear doped linen or CDL. In most cases, this resulted in a nearly translucent finish which is impossible to replicate unless you build a detailed wing covered in translucent tissue. This period is known to some aviation camouflage and markings followers as the "sky" camouflage period. I have not seen any German documentation from the period that calls it that. It is a classification used by modern aviation historians to rationalize the evolution of German World War I camouflage. I believe that the "sky" camouflage name is appropriate because the scheme does well to "hide" aircraft aloft especially at higher altitudes. Some enthusiasts go a step further and suggests that "sky blue" or "white" was painted on German bomber and reconnaissance aircraft of this period. I have not seen documentation in German that supports this conclusion. I would agree that individual aircraft may have been painted sky blue or white but it certainly was not a widely-spread scheme for the period.
I have chosen to finish my Albatros C.III in varnished fuselage and fin, CDL flying surfaces, and basic German light grey-green for metal parts such as louvre covers, access panels, struts, and any other metal parts exposed to the elements. I used the kit's decals for all eight EK positions all of which were set on white fields as shown in the photographs of the original aircraft. I made the serial number decal on my new HP laser jet, a significant improvement over my old ordinary inkjet clunker. No other markings were on the aircraft which was photographed in the Spring of 1917.
On the underside of the fuselage, I added a small self-made decal identifying my work, "Albatros C.III Grasse No. 6451".
Table 5: Paint Color Swatches Used on my Albatros C.III C.4187/15
| | |
| --- | --- |
| | Misterkit MKGC10 German Clear Doped Linen (CDL) |
| | Misterkit MKGC08 German Light Grey |
| | Andrea ANXC18 Slate Grey (for the tires) |
| | Model Master ME1730 Wood (interior cockpit wood components and base coat for oil finished wood fuselage) |
| | Andrea ANXC50 Leather Brown (cockpit coaming) |
| | Andrea ANXC49 Dark Leather Brown (cockpit coaming wash) |
| | Model Master MA4622 White Primer (for the kit's metal parts) |
ALBATROS C.III C.4187/15 FINISHED PHOTO GALLERY
------------------------------------------------------------------------------------
FOOTNOTES
1 Phillips, Terry. "From the Albums - Ltn. Fritz Leitzow Part II", Over the Front, Volume 21, Number 1, Spring 2007, page 89.
2 Grosz, Peter M. The LVG B.I Windsock Datafile 98. Berkhamsted, Hertfordshire, UK: Albatros Publications, Ltd., 2003, page 4.
3 Grosz, Peter M. Albatros C.I Windsock Datafile 57. Berkhamsted, Hertfordshire, UK: Albatros Publications, Ltd., 2003, page 1.
4 Grosz, Peter M. Archiv: Frontbestand. The Journal of the Early Aeroplane "WWI Aero", issues 107 (Dec 1985) and 108 (Feb 1986).
5 Gray, Peter and Owen Thetford. German Aircraft of the First World War. London: Putnam & Company, Ltd., 1962, pp. 24-26.
6 Grosz, Peter M. Albatros C.III Windsock Datafile 13. Berkhamsted, Hertfordshire, UK: Albatros Publications, Ltd., second edition, 1999, pages 28 and 29. The author notes that there is a slight discrepancy between the total order quantities (2,271 aircraft) and total serial number quantities (2,295 aircraft) known to have been allocated to the Albatros C.III. Orders after the last 1916 order to BFW for 50 in July 1916 were trainers. The order quantity for combat aircraft through 1916 and the serial numbers allocated are, however, not an exact match.
7 Grosz, Peter M. Albatros C.III Op. cit. Serial number records for the parent Albatros and the subsidiary OAW are incomplete. The scheme used to designate aircraft built by one or the other in the same serial number batch is not yet understood. What is known are photographic references that separate one from the other and the best known method is to look at the forward fuselage sides: two vertical venting louvres are Albatros and one is OAW.
8 I have maintained a relational data base for a number of statistics including German serial numbers that were obtained from all of the Windsock Datafile publications for C Type aircraft. I had no idea just how many serial numbers are unknown until I prepared this article trying to understand why Peter M. Grosz had trouble reconciling Albatros C.III production order quantities and actual known serial number quantities. Now I have an understanding of just how incomplete the records are.
9 Phillips, Terry. "From the Albums - Ltn. Fritz Leitzow Part I", Over the Front, Volume 20, Number 4, Winter 2005, page 379.
10 Das Propellerblatt, Nr. 2, page 1/69. This source summarizes all AFA units and provides creation and re-designation data and is part of an on-going series "Deutsche Flieger Einheiten 1914 - 1918" by Reinhard Zankl.
11 See the recent revised monograph by Ray Rimmel in the Windsock Datafile series LVG C.VI at War, page 25, which publishes verbatim a memorandum suggesting that wood-finished fuselages be stained a dark color to complement the dark shades on the upper surfaces. The date of this memorandum is 20 September 1918. Note the 1918 date which suggests that the practice of darkening the fuselage was not yet at this late stage common practice at the factory.
BIBLIOGRAPHY
Cron, Hermann. Imperial German Army 1914-18. Solihull, West Midlands, UK: Helion & Company, 2002.
Esposito, Colonel Vincent J., Chief Editor. The West Point Atlas of American Wars, Volume II, 1900-1953. New York: Frederick A. Praeger, Publishers, 1959.
Fliegertruppe website 21 Feb 2009, www.fliegertruppe.de
Franks, Norman; Frank Bailey, and Rick Duiven Casualties of the German Air Service 1914-1920. London: Grub Street, 1999.
Gray, Peter and Owen Thetford. German Aircraft of the First World War. London: Putnam & Company, Ltd., 1962.
Grosz, Peter M. Windsock Datafile 13 Albatros C.III. Berkhamsted, Hertfordshire, UK: Albatros Publications, Ltd., Revised 2d Edition 1999.
Grosz, Peter M. Archiv: Frontbestand. The Journal of the Early Aeroplane "WWI Aero", issues 107 (Dec 1985) and 108 (Feb 1986).
Rimmel, Ray. LVG C.VI at War, Windsock Datafile 138. Berkhamsted, UK: Albatros Productions, 2009
Zankl, Reinhard. "Deutsche Flieger Einheiten 1914 - 1918, Folge 2: Artillerieflieger-Abteilungen. Das Propellerblatt, Nummer 2.
RECOMMENDED READING
Cornish, Nik. The Russian Army and the First World War. Stroud, Gloucestershire: Spellmount Limited, 2006.
Hoeppner, Ernest, General von. Germany's War in the Air. Nashville, TN: The Battery Press, 1994.
Imrie, Alex. Pictorial History of the German Army Air Service 1914-1918. Chicago: Henry Regnery Company, 1973.
Kirke, W. M. St. G., Major-General. An Outline of the Rumanian Campaign, 1916-18. Uckfield, E. Sussex, Naval and Military Press, 2010.
Root, G. Irving. Battles East - A History of the Eastern Front of the First World War. Baltimore, MD: Publish America, 2007.
Copper State Models 1:48 German Luftstreitkräfte Observer in Short Flying Coat
GO TO?