HISTORICAL MINIATURES JOURNAL ISSUE NUMBER 11
BY GEORGE GRASSE
BUILDING THE 1:48 SCALE EDUARD GERMAN LFG ROLAND C.IIa 'WALFISCHE' OF FFA(A) 235, WESTERN FRONT, FALL 1916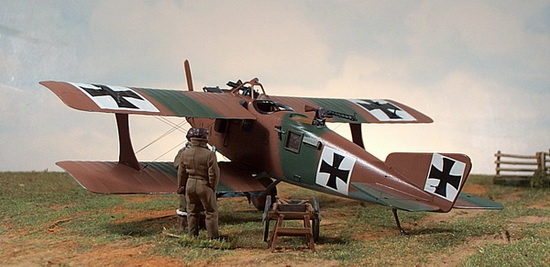 KIT DESCRIPTION
The 1:48 scale WW1 airplane covered in this issue is the Eduard 1:48 scale injection molded kit of the German LFG Roland C.IIa "Walfisch", a fast C-Type aircraft assigned to army cooperation flying sections which served as an escort to other machines performing photography, artillery fire adjustment, or infantry contact patrol. As an escort, its purpose was to draw fire away from the duty aircraft that had the precious exposed plates, marked-up maps, and observation notes. That aircraft had to get back across the lines; the "Walfisch" would take on the intruders.
The includes the usual "sprue trees" of plastic injection molded parts, a photo-etched sheet of detail parts; a clear plastic "tree" for the side windows, windscreen, and camera parts; a sheet of pre-punched "masking" tapes; and decals for finishing the model as one of three aircraft. Eduard of the Czech Republic are the standard for 1:48 scale aircraft and this kit does not disappoint. It is well molded, clean lines, and true to scale. However, you have to be an expert on LFG Roland C.II aircraft in order to model anything more than provided in the kit. As will be explained further on, not many of these machines were built and they were dispersed in ones and twos to frontline units. A few of the Kampfstaffel (Kasta) units appear to have been entirely equipped with these aircraft but Allied fighter pilots soon discovered weaknesses in the "Walfisch's" ability to maneuver and fight.
Not supplied in my kit or otherwise replaced are a number of items which I will detail in the step-by-step Construction section below. I used the following after-market accessories:
Copper State CS0122 German Gauge Set
.005 monofilament line for rigging wires
MODEL TO BE BUILT
This is one model I dreaded to build because photographic evidence of a specific crew, serial number, unit, date, and circumstance are virtually absent especially for the Verdun and Somme campaigns, the highlight period of the LFG Roland C.II/IIa. This is further complicated by the almost universal absence of serial numbers on the aircraft. A third problem is the number of changes made to the aircraft during its short production life. My first choice was to finish an aircraft in the early so-called "sky" camouflage which was, for most manufacturers, leaving the aircraft in its original unaltered clear doped linen (CDL) finish. Many aviation historians have created the view that some German manufacturers during the "sky" camouflage period finished their aircraft in a pale gray, pale blue-gray, pale blue, or some like variation.
From late 1914 to Spring 1916 "sky" camouflage was in vogue until the advent of numerous and improved fighter aircraft that favored attacking two-seaters from above and the rear. This meant that some sort of camouflage had to be adopted to offer some degree of concealment for vulnerable two-seaters from above. The French adopted a two-color scheme of brown and green in early 1916 but without their national tricolor "cocarde" displayed on the upper surface of the top wing. Curiously, the Germans did the same according to an Idflieg directive that also called out brown and green but the upper surface was clearly marked with the Eisernes Kreuz on a white field. In spite of some differences between the two schemes, there were several incidents in which friendly fighters attacked friendly two-seaters. The Germans sometime in the early Summer of 1916 immediately added a third light green color to the camouflage mix to enhance identification. The specific LFG Roland C.IIa I am going to model will be finished in the two-color dark green/red-brown scheme from Feldflieger-Abteilung (Artillerie) 235 based at Flugplatz Quéant in the 6.Armee sector in July 1916.
Illustration 1: Comparing the Allied and German Two-Color Camouflage Schemes
GERMAN

FRENCH

Halberstadt D.II

Nieuport 16

It is difficult to understand how one scheme could be mistaken for the other except, perhaps, when viewed from the side. Both models are 1:48 scale built by George Grasse.
A LITTLE BACKGROUND ON LFG ROLAND
LFG stands for Luftfährzeug Gesellschaft m.b.H. of Berlin-Charlottenburg. There existed at the same time another manufacturer Luft-Verkers Gesellschaft m.b.H. of Johannisthal bei Berlin abbreviated LVG. Since the two abbreviations were too similar for the marketing folks at LFG, it was decided to add "Roland" (after the French medieval hero) to their name. Thus it became LFG Roland. Now, the m.b.H. which is sometimes given as G.m.b.H. (that is, the "Gesellschaft" is not normally spelled out) is essentially the same as "company" (Co.) or "limited" (Ltd) or "incorporated" (Inc). The abbreviation of the company was a big deal in the German aviation business. The German Inspektion der Fliegertruppe or Idflieg specified abbreviations and every company that did business got one.
LFG ROLAND C.IIa DESCRIBED
The LFG Roland C.IIa is a two-seat C-Type army cooperation aircraft that was designed to perform artillery spotting, short-range reconnaissance, and photography in support of a front-line infantry division. For the pilot, it was fitted with a forward firing 7.92mm Spandau air-cooled machine gun synchronized to fire through the propeller arc. For the observer, it had a ring-mounted 7.92mm Parabellum machine gun. It had a good Mercedes D.III 160 hp in-line six-cylinder engine which allowed it to carry armaments, ammunition, a wireless sending unit, photographic equipment (camera and photographic plates), fuel, oil, water, and two crewman. It was faster than most Allied aircraft but not as maneuverable. 1
Illustration 2: Three-view Drawing of the LFG Roland C.II
(This 3-view drawing is from Gray & Thetford, German Aircraft of the First World War, page 160, drawn by L. E. Bradford)
The shape of the all-wood fuselage earned the aircraft the name "Walfisch" or whale. The fuselage had an oval shape made up of the normal wood formers and longerons. It was wrapped in narrow strips of thin three-ply wood at an oblique angle to its longitudinal axis, tacked and glued. The entire surface was then covered in doped linen. Plywood covering of this type was not unknown but widely used in German aircraft manufacturing. Another more popular method of plywood application was slab-sided pieces screwed to the frame.
Another unusual feature of the "Walfisch" was the placement of the upper wing integrated with the fuselage. Of course, upward and sideways viewing was outstanding but downward visibility for the pilot on landing and for the observer in aircraft rear-firing defense was seriously compromised. The large single inter-wing struts also blocked viewing. The purpose of the side windows was to facilitate viewing and defense but these were not enough. Landing accidents were common because the pilot could not quite "feel" the ground at the end of the glide path to landing. Often, the nose-heavy aircraft plowed in or nosed-over. On defense, many were lost especially to Allied pilots who dove from height passing behind and below the "Walfisch" and then quickly zooming up to rake the underside or, for those Allied pilots who had a flexible Lewis gun on the top wing, fly below and slightly behind in the observer's blind spot while tilting the Lewis gun to riddle the unfortunate Walfisch.
The wings were of conventional construction with wood ribs and spars covered with linen fabric. The control surfaces were steel-tube frames covered in linen fabric. The ailerons in the C.II version were controlled by wires and pulleys that ran through and along the forward edge of the lower wing. The C.IIa version had the wires and pulleys running through the upper wing to actuating rods near the fuselage and into the lower part of the pilot's cockpit. This was intended to provide the pilot with more positive lateral control. Yet a third version with enhanced maneuverability in mind was built in limited quantities and featured larger tail surfaces to improve the aircraft's acrobatics. By the time these improvements were made, much larger and more powerful two-seaters were already at the front and "Walfisch" was withdrawn and sent off to training facilities.
LFG ROLAND C.IIa PRODUCTION
The LFG Roland C.II series was an advanced design for 1915 but was produced in small numbers largely because it was obsolescent when finally introduced to front line units in early Spring 1916. The high hopes held for this aircraft must have been the inspiration behind the authorized license production of additional "Walfisch" by the Linke-Hofmann firm (abbrev, "Li"). But again, disappointing performance at the front minimized production as Table 1 shows.
Table 1: Summary of LFG Roland C.II Aircraft Orders 2
Order Month

Order Qty

MFG

Serial Numbers

Type

Notes

EXHAUSTS

Feb 1916

50

LFG

C.4413 - 4462/16

C.II

1 Parabellum MG only; aileron control in bottom wing; curious "ocarina" style exhaust; finished in "day" camouflage

Top Row are the kit's "ocarina" (left) and "collector" exhausts compared to a handful of types used on other aircraft of the period.

Mar 1916

25

LFG

C.999 - 1023/16

C.II

front Spandau MG for pilot added; aileron control in bottom wing; "ocarina" exhaust; finished in "day" camouflage

Apr 1916

100

LFG

C.1600 - 1699/16

C.II and C.IIa

major changes in aileron control (to top wing) and exhaust from "ocarina" to "collector" style; finished in two-color camouflage (see Table 2 below for more details)

Jun 1916

40

LFG

C.2700 - 2739/16

C.IIa

major change to larger tail unit surface area

The larger tail unit on the last LFG production order of June 1916 was not enough to stave off the end for the "Walfisch".

Jul 1916

12

Li

C.1851 - 1862/16

C.IIa

License-built CL.IIa "Walfisch" by Linke-Hofmann; all built as traditional C.IIa with the original tail unit surfaces, but with a three-color camouflage scheme. The diagram on the right shows the difference in size of the original (smaller) and later (larger) tail unit. The kit supplies only the smaller version so an enterprising modeler would have to scratch build the larger version. (image was taken from Windsock Datafile 49 LFG Roland C.II by Peter Grosz and drawn by Ian R. Stair and Colin A. Owers. Special thanks to Ray Rimmel of Albatros Productions, Ltd for its use here).

Sep 1916

40

Li

C.3624 - 3663/16

C.IIa

Totals

267 (250)*

* However, not all of these reached the Front. On 6 September 1916, the LFG Roland plant was destroyed by fire and seven complete aircraft plus ten fuselages were lost. Thus the actual completion number is 250. All of these were probably from the June 1916 order with the larger tail unit surfaces.
The impact of this design on aviation history far exceeds the actual number used in service and is more the wonder when you consider the relatively high accident and combat loss rate. The most difficult task for me in deciding which version to build and in what camouflage was severely hampered by low front line usage and the associated lack of photographic evidence. Having decided to build the C.IIa version (a C.II version can be built from the kit), which one and in what colors? I eliminated the June 1916 order because the kit does not include the larger tail unit. I didn't want to do the Linke-Hofmann version; I wanted a model representing the original manufacturer, LFG Roland.
After reviewing photos in LFG Roland C.II Windsock Datafile 49, I determined that the first two orders were ordered and probably finished before the April 1916 Idflieg directive mandating the two-color dark green and red-brown camouflage scheme. I could not find any evidence that aircraft already in production or in the field were ever retrofitted with the new two-color scheme. Assuming that to be true, that left one order, April 1916, that probably had to comply with the two-color directive. That order for 100 aircraft was composed of three different versions as shown in Table 2.
Table 2: LFG Roland C.II/C.IIa Aircraft of the April 1916 Order 3
| | | | | |
| --- | --- | --- | --- | --- |
| Order Qty | MFG | Serial Numbers | Type | Notes |
| 45 | LFG | C.1600 - 1644/16 | CL.II | continuation of the aileron control in the bottom wing; "old" style ocarina exhaust continued; with two-color camouflage (slight possibility some of the early machines may have left the factory in "sky" camouflage. |
| 19 | LFG | C.1645 - 1663/16 | C.II and C.IIa | continuation of the aileron control in the bottom wing BUT the revised version with aileron control may have occurred in this batch; "old" style ocarina exhaust continued; with two-color camouflage |
| 36 | LFG | C.1664 - 1699/16 | CL.IIa | photographic proof of the earliest serial (C.1664/16) with the revised aileron control in the top wing; still the possibility of either exhaust type (ocarina or collector). |
So, from Table 2, I'm down to the second or third group. The source material for Table 2 was not able to determine any earlier serial number than C.1664/16 and I was okay with that but just to satisfy my curiosity about the two-color camouflage scheme, I constructed a production rate table to help me narrow down just when C.1664-1699/16 could have been introduced into the front line. This would help me discover a possible unit to associate with my model.
Table 3: Comparing Front Line Inventory, Orders, and Production Rates for the LFG Roland C.II/IIa 3
Two-Seater Frontline Aircraft

1916

1917

Feb

Apr

Jun

Aug

Oct

Dec

Feb

Apr

Jun

Aug

Frontline Inventory

0

17

35

50

56

64

53

42

13

2

C.II Orders

50

25

45

0

0

0

0

0

0

0

C.IIa Orders

0

0

95

52

0

0

0

0

0

0

Cumulative Orders

50

75

215

267

0

0

0

0

0

0

LFG Production Rate

0

25

35

35

35

35

35

15

0

0

Linke-Hofmann Production Rate

0

0

0

0

20

20

12

0

0

0

Cumulative Production Rate

0

25

60

95

150

205

252

267

0

0

Camouflage Scheme

Sky: Clear Doped Linen (CDL), Pale Blue, Pale Gray, etc.

Two-Color: Dark Green and Red-Brown

Three-Color: Dark Green, Red-Brown, and Light Green

Two-Color: Dark Green and Lilac plus the introduction of printed camouflage fabric
Looking at the Cumulative Production Rate in Table 3 above and using rate shown in the LFG Production Rate line, serial number C.1664/16 would have been the 95th aircraft produced in August 1916. Obviously, a different assumption of the LFG Production Rate would yield the 95th aircraft in a different period. The lead time for one LFG Roland C.II to reach the front line and be available for distribution to a unit seems to be about two-three months including production, acceptance, rail transport to an Armee Flugpark (AFP, and the time it took the AFP to perform final installation (e.g. armaments, radio, etc) and testing. My conclusion is that the earliest availability of the improved C.IIa of the version I am building would be August through September. Why is this important? My research of Feldflieger-Abteilung (Artillerie) 235, FFA(A) 235 for short, shows that it had on hand at the end of October 1916 four LFG Roland C.II types and three LVG C.II types. Given the time I had to research German aviation units that definitely had the "Walfisch", this is the unit I decided to associate with my model given the information I collected in Tables 1 through 3. 4
WESTERN FRONT HISTORICAL BACKGROUND EARLY 1916 - VERDUN
In February 1916 the German Army launched the Verdun Offensive (see Map 1 below). The war from August to October 1914 was fluid and both sides scrambled to out-flank the other. This resulted in the beginning of the iconic trench war of the Western Front from the Channel Coast in Belgium to Swiss border, a distance of some 400 or so miles of irregular front line. Both sides struggled in pathetic vain to break-through heavily fortified lines in depth covered by barbed wire, machine guns, and artillery. In late 1915, the commander of the German Army, Chief of the General Staff General von Falkenhayn, reached a decision to knock France out of the war which was deemed to be the weaker of the three Allied armies on the Western Front (Belgium, Britain, France). Verdun was selected because of its exposed flanks and relatively weakly held front line on either side of the Meuse River. Von Falkenhayn felt that the bravado of the French would not permit the ancient fortress area of Verdun to fall and would, therefore, commit all of its reserves to defend it. France would be "bled white" and ultimately sue for peace. The red area in Map 1 at Verdun shows how much ground the Germans were to overrun initially. However, even-though the Verdun conflict was "a near run thing" well into April, the French were indeed suffering severely. By the same token, German losses were nearly as high, a relatively unexpected result of the prolonged fighting. The Allies had to do something to relieve the pressure on Verdun. 5
Map1: The Western Front in 1916
WESTERN FRONT HISTORICAL BACKGROUND MID 1916 - SOMME
The Allies quickly developed a plan to help France. Britain and France on the Western Front and Russia on the Eastern Front would launch large-scale offensives with the idea of freezing possible German reinforcements to either front and causing the Verdun campaign to wither. Russia prepared for the Brusilov Offensive which they launched in June 1916 and the British and French prepared for the Somme Offensive which they launched in July 1916. Both had the desired effect. The Russian attack petered out by mid-to-late June but set the stage for the surprise assault on the Somme on 1 July 1916. German offensive action on the Verdun front ground to a halt as reserve forces there were quickly diverted to the Somme. It is in the Somme setting that my model and FFA(A) 235 are based.
FELDFLIEGER-ABTEILUNG (ARTILLERIE) - ORIGINS
When the Western Front settled into static trench warfare at the end of 1914, the role of artillery became increasingly important being one of the few ways to get at the enemy's trenches, machine gun emplacements, supporting battery positions, and supply lines. Balloon observation grew rapidly and assisted greatly in spotting for artillery barrages but even at 1000-2000 meters, it was difficult at long range to see into or through solid objects such as thick woods, villages, and terrain. During the course of 1915 the use of aircraft as spotters against hidden targets increased though the process was hampered by the not-so-good coordination between aircraft and battery. Early on, the spotting aircraft had to fly back to the battery and dropped written messages that adjusted the fire. It then had to return to its spotting position and repeat the process over again until the target was destroyed.
The advent of wireless transmission was not unknown. In fact, some aircraft began receiving W/T sending units to batteries that were equipped with W/T receiving units. The size of the W/T equipment at that time was prohibitive to early unarmed B-Type aircraft with less-powerful engines - they had a "lift" limitation and only the W/T receiver could be carried. When these few aircraft proved the technique of W/T spotting, enemy aircraft and AAA seriously posed a threat. The new C-Type two-seater army cooperation aircraft with larger engines had more "lift" and could now carry a W/T sending unit, defensive armament, more fuel, and larger photographic equipment. However, the existing Feldflieger Abteilungen (field aviation units) were not yet trained for the specific task of artillery spotting. Therefore, by August 1915, a new aviation unit, the Feldflieger Abteilung (Artillerie) was created with a strength of four C-Type aircraft. By year's end, 18 FFA(A) units were operating.
The sophisticated and on-going development of trench warfare systems revealed the need to have one FFA(A) unit for each infantry division's sector on the front line. The FFA units were now re-deployed as corps and army aviation units. Divisions would be rotated out of the line frequently but the FFA(A) unit usually remained in place more often than not but both the new infantry division and the FFA(A) had to orient themselves to each other by testing W/T transmissions, the use of ground recognition panels, and photographic requirements.
Table 4: FA, FFA, FFA(A), FA(A). . . . ??? 6
Confusing, isn't it? There were two distinct periods divided by the appointment of General von Hoeppner as commander of the German air force on 8 October 1916. Prior to his appointment, the air force was known as the Fliegertruppe or Flying Troops. After his appointment, a new name, Luftstreitkräfte meaning "air strike force", was given and a major reorganization began. Although a great number of changes occurred, I would like to briefly explain the designations of the army cooperation aviation units.

Fliegertruppe Aug 1914 to Nov 1916

Luftstreitkräfte (Nov 1916 to Nov 1918)

FFA = Feldflieger Abteilung or field aviation section. Each was equipped with six aircraft, at first A-and B-Types (unarmed monoplane and biplane respectively). Later by mid-1915, armed C-Types were rapidly replacing the older machines. These were the only army cooperation aviation units for quite some time. When artillery became a dominant trench warfare weapon, aerial artillery spotting mushroomed but the existing FFA units were not specialized and were also needed for corps and army mid- to long-range reconnaissance.

FA = Flieger Abteilung or aviation section. The "Feld" was dropped. These units were the old FFA units simply re-designated except the number was reduced from 83 to 48 with "excess" units converted to FA(A) below. Authorized strength was six C-Type aircraft. With improvement in camera technology and the improvement in aircraft altitude, endurance, and speed, the role of long-distance reconnaissance was specialized in these units. Later, in 1918, some were officially recognized with the addition of three aircraft that could carry the film strip camera with the suffix "Lb" short for Lichtbild added to their designation. Later still, all of those on the Eastern Front were sent west and converted to Schusta formations when Russia signed a peace treaty with Germany in December 1917.

FFA(A) = Feldflieger Abteilung (Artillerie) units were created to specifically focus on front line aerial artillery spotting at the division level. Each FFA(A) had four C-Type aircraft and were equipped with W/T sending units that allowed artillery fire to be directed by Morse code signals. The aerial was a thin-gauge strand of copper wire with a weight on the end and sometimes had to be let out some 300 feet in order for the transmitting signal to be picked up by the W/T receiving unit at the firing artillery battery.

FA(A) = Flieger Abteilung (Artillerie) or aviation section (artillery). A combination of re-designating the FFA(A) units, the conversion of surplus FFA units (not needed in the new FA role), and the raising of new units brought the number of "division" oriented aviation units to about 100. Four of these, however, were converted to "Lb" units but keeping their FA(A) number (260, 261, 276, 289b). One was converted and dropped altogether (220 became Schusta 37). The number of aircraft authorized was six instead of four. Many of these were authorized an increase to nine aircraft under the "Verstärkt" program in late 1917. In this way, they could better handle more complex missions required of front line units.
FFA(A) 235 ORGANIZATION 7
FFA(A) 235 was authorized on 14 March 1916 per Kriegsministerium (War Ministry) Order No. 207.16g. Several other FFA(A) units were authorized and a large number of recruits had to be processed at the basic and advanced training levels so that organization did not begin until the end of June 1916 at Flieger-Ersatz-Abteilung 2 (Flying Replacement Unit or FEA 2) in Schneidemühl, Germany, and was completed on 8 July 1916. During this "final assembly" period, the unit's first commander, Hauptmann Zimmer, was appointed. He was a qualified pilot and observer and his experience included service with FFA 25 and FFA 50. The unit received a draft of 100 NCOs and men from the II.Armeekorps district. Initial equipment issued included three motor cars, two motorcycles, six aircraft carrying vehicles, a W/T vehicle, and a covered workshop vehicle. I could not find the specific aircraft issued to FFA(A) 235 but in a statement on page 12, Mertens clearly says that the aircraft and crews were alone sent to the Front ahead of the convoy of men and material. Ltn d R Mühlenbruch was responsible for the convoy which left Schneidemühl on the morning of 9 July 1916. The column arrived at Flughafen Quéant on 11 July 1916 and FFA(A) 235 was officially mobilized.
On arrival at Flughafen Quéant, FFA(A) 235 displaced FFA 4b, a Bavarian unit, who were ordered to detach all non-Bavarian personnel to be absorbed by FFA(A) 235. In addition, three LFG Roland C.II aircraft were left behind. In translating Mertens book, I did not find any reference to specific aircraft brought by FFA(A) 235 from FEA 2 just the entry that crews and aircraft went alone to the front while the remainder of unit formed a transport column and drove to the front. On the next day, 12 July, three existing LFG Roland C.II aircraft were exchanged for three LVG C.II aircraft. Were the three LFG Roland C.IIs left behind by FFA 4b or were they three of the four brought by the unit from FEA 2? I love a mystery. Skipping ahead momentarily to 1 October 1916, the unit filed a status report claiming three LVG C.II and one LFG Roland C.II on hand. The authorized strength for an FFA(A) was four aircraft. So, if they flew in to Flughafen Quéant or AFP 6 in Valenciennes with four (+4) aircraft, picked up three more from FFA 4b (+3), exchanged 3 for 3 (0), their total on hand strength would by 7 aircraft which I doubt was permitted. I believe the net result of the exchange on 12 July, one day after arriving at the front, resulted in a net strength of aircraft. What was the purpose of flying in with four aircraft? My guess is that they were ferrying replacement aircraft to AFP 6 and that's probably where they landed. The original crew members are shown in Table 5 where P = pilot (Flugzeugführer), O = observer (Beobachter), ? = first name not known, Adj = Adjutant.
Table 5: Original Flight Crew of FFA(A) 235
| | | | | |
| --- | --- | --- | --- | --- |
| Name | Crew | Rank (German) | Rank (English) | Notes |
| Hullard, Alexander | P | Leutnant der Reserve (Ltn d R) | 2/Lt | KIC 26 Aug 1916 |
| Borth, Alois | P | Vizefeldwebel (Vzfw) | Sergeant | WIA 10 Oct 1916 |
| Bärmann, Fritz | P | Unteroffizier (Uffz) | Corporal | KIA 22 Oct 1916 |
| Menschke, ? | P | Unteroffizier (Uffz) | Corporal | transferred to AFP 6 11 Aug 1916 |
| Zimmer, ? | P/O | Hauptmann (Hptm) | Captain | C.O., transferred in May 1918 |
| Mühlenbruch, ? | O | Leutnant der Reserve (Ltn d R) | 2/Lt | WIA 26 Aug 1916 |
| Vordemfelde, Friedrich | O | Leutnant der Reserve (Ltn d R) | 2/Lt | KIA 22 Oct 1916 |
| Boethelt, ? | O | Leutnant der Reserve (Ltn d R) | 2/Lt | Transferred to AFP 6 in Oct 1917 |
| Landsberg, | O | Leutnant (Ltn) | 2/Lt | WIA 7 Aug 1916 |
| Bühling, ? | O/Adj | Oberleutnant (Oblt) | 1/Lt | Adjutant, transferred to Idflieg 19 Nov 1916 |
Map 2: FFA(A) 235 Aerodromes in the 6.Armee Area of Operations on the Western Front to the End of 1916 8
FFA(A) 235 was re-located to Baralle on 26 August 1916. During the period at Quéant, the unit completed 83 hours and 35 minutes of combat flying time in 81 missions most of which were artillery spotting and photo reconnaissance. One of the purposes for the LFG Roland C.II was suited, in addition to its regular duties, was to provide escort for unit's LVG C.IIs. The idea of escorting army cooperation aircraft, especially during an artillery shoot, was to allow the observer in the spotting aircraft the opportunity to concentrate on locating the drop of shells and transmitting results without having to be concerned for enemy fighters. When they did show up, the spotting aircraft immediately joined up with the escort and the mission was aborted. If the enemy fighter persisted, the escort would break off and engage the fighter while the spotter aircraft dived for the safety of friendly lines. The "Walfisch" was well-suited for limited offensive action at this time in the war and was a pretty good escort being as fast or faster than Allied fighters and most were issued in ones and twos for this purpose.
The stay at Baralle lasted about one month and the unit was transferred 30 September 1916 to Flughafen Esquerchin on the outskirts of Douai. On 1 October 1916, Hauptmann Zimmer reported that FFA(A) 235 had seven officers, two officer aspirants, 15 NCOs, 88 men, 12 motor vehicles, 2 wagons, and 4 horses. Aircraft numbered four: three LVG C.II and one LFG Roland C.II. The only remaining flying crew of the original group were Borth (P), Bärmann (P), Boethelt (O, and Vordemfelde. On 10 October, the crew of Vzfw Borth (P) and Ltn Bird (a replacement observer) were assigned to conduct two photo reconnaissance (photoflug) mission to the east and north of Arras. After completing the first photo shoot and heading for the second, they were attacked by two "englischen" fighters over Souchez. Part of the German aircraft steering was damaged by the fighter attack. Vzfw Borth evaded the fighters by diving away but flew through ground machine gun fire at 300 meters, barely made it over "No-Man's Land", and crash-landed in woods near Vimy in the first German trench line. Both Borth and Bird were wounded.
On the same day the crew of Ltn Zeglien (P) and Ltn d R Timm (O) crash-landed the unit's only Walfisch as a result of engine failure over Douai. The crew was not injured but the LFG Roland C.II was apparently badly damaged and probably sent off to AFP 6 for disposition. The next day, the stay at Esquerchin ended having lasted from 30 September to 11 October 1916. Once again, FFA(A) 235 would move, this time to Faumont but my story ends here.
MODEL CONSTRUCTION
As with all aircraft I build, I maintain a "construction" page for each one in my "World War I Aircraft in 1:48 Scale" section. Click on the link in the box below or go on to the "Camouflage Finish & Markings" section below.
LFG ROLAND C.IIa CAMOUFLAGE FINISH & MARKINGS
The basic camouflage finish for this aircraft is the two-color dark green and red-brown scheme introduced in April 1916 that applied to the upper surfaces including the fuselage as seen from above. The under surfaces as seen from below is pale blue. During the period that the LFG Roland C.IIa was built, it was standard practice to place the Eisernes Kreuz (EK) on a white field except for the under surface which were plain black EK. This requirement was rescinded in October 1916 and a thin 5cm white band was to surround the EK. All aircraft on the front line were to adhere to this new directive. The white field was simply painted out leaving the required white outline. I used the kit's decals and these were the only decals used except for the two logos on the propeller.
LFG Roland was remarkably lax in the application of the aircraft's serial number. Most photographs I have seen so not hint of a serial number. The ones that do, show a variety of sizes and locations on some aircraft. The most prominent serial numbers were applied at an Armee Flugpark (AFP) when the aircraft was re-worked to repair battle or crash damage. Since I have narrowed my aircraft down to the range C.1664-1699/16 and, since serials are not present in many photos, I decided, reluctantly to not have a serial number associated with this model.
Table 6: Paint Color Swatches Used on the LFG Roland C.IIa
Vallejo VC0913 Yellow Ochre (base coat for aircraft interior)

Vallejo VC0872 Chocolate Brown (for staining the aircraft interior)

Vallejo VC0856 Ochre Brown (raised interior structural members)

Andrea ANXC50 Leather Brown (cockpit coaming)

Andrea ANXC49 Dark Leather Brown (cockpit coaming wash)

Andrea ANXC18 Slate Grey (for the tires)

Misterkit MKGC01 Albatros Red-Brown (upper surface camouflage)

Misterkit MKGC05 Albatros Dark Green (upper surface camouflage)

Misterkit MKGC03 Albatros Pale Blue (under surface)
LFG ROLAND C.IIa (serial unknown) of FFA(A) 235 FINISHED PHOTO GALLERY
------------------------------------------------------------------------------------
FOOTNOTES
1 Gray & Thetford, German Aircraft of the First World War, pages 158-161. The 3-view drawing below is reproduced from page 160.
2 Grosz, Peter M. LFG Roland C.II Windsock Datafile 49, page 35. The "production characteristics" table on this page contains the information appearing in this table but there is much more with regard to the nuances of the many "versions" of this unique but limited production aircraft.
3 Grosz, Peter M. Archiv: Frontbestand. The Journal of the Early Aeroplane "WWI Aero", issues 107 (Dec 1985) and 108 (Feb 1986). There is an interesting
4 Rottgardt, Dirk. German Armies' Establishments 1914/18, Volume 6: Signals and Air Forces, page 90. The entry refers to FFA(A) 225 (not 235) which I did not know at the time was a misprint. As a member of the League of WW1 Aviation Historians, I took advantage of the League's "Ask the Experts" Email query on their website www.overthefront.com. I wanted to associate crew members to FFA(A) 235. All members of the League have specific interests and I expected referrals. I received a thoughtful response from Narayan Sengupta who referred me to Alan Toelle who kindly referred me to Dr. Dieter Gröschel, a recognized resource for German aviation unit rosters. He contacted Dr. Rottgardt who relayed to him the misprint and identified the unit as actually FFA(A) 235. Dr. Gröschel notified me of the error and offered a copy of the reference book that Dr. Rottgardt used and listed in his bibliography which is correctly listed in his bibliography. I received the book which contained the unit's roster, locations, parent units, and a detailed history.
5 von Falkenhayn, Erich, Generalleutnant. General Headquarters 1914-16, pages 209-218. These pages are the text of a written report prepared by von Falkenhayn for a presentation to the Kaiser on where the German 1916 offensive should be. In it, on page 271, he says, ". . . [Franc] would be so compelled to throw in every man they have . . .[and to do so]. . . the forces of France will bleed to death. . .". This discourse and the following chapter on the Campaign of 1916 are quite interesting from the German point of view.
6 Imrie, Alex. Pictorial History of the German Army Air Service 1914-1918. As short histories of the German air service go, this is the best. Well organized with just enough detail to understand the growth and development of the air service. This information was taken from pages 39-41.
7 Mertens, Emil Dr. Die Flieger-Abteilung (A) 235) im Weltkrieg. All of the FFA(A) 235 information presented here is from this source. Mertens was a Leutnant der Reserve pilot and joined this unit on 24 February 1918 and flew 108 missions.
8 Reichsarchiv. Der Weltkrieg 1914-1918, Band 4, Map 7. I have accumulated 9 of the 14 volumes and don't have volume 10 which covers operations in 1916. So I had to rely on an earlier volume to locate a map of the area of the 6.Armee to which FFA(A) 235 was assigned. Positions in red (Allies) and blue (German) are for operations as of 5 October 1914 but show the locations of the various aerodromes occupied by the unit into early 1917.
BIBLIOGRAPHY:
Falkenhayn, Erich v., Generalleutnant. General Headquarters 1914-16. Nashville, TN: The Battery Press, 2000.
Franks, Norman; Frank Bailey, and Rick Duiven Casualties of the German Air Service 1914-1920. London: Grub Street, 1999.
Gray, Peter and Owen Thetford. German Aircraft of the First World War. London: Putnam & Company, 1962.
Grosz, Peter M. Archiv: Frontbestand. The Journal of the Early Aeroplane "WWI Aero", issues 107 (Dec 1985) and 108 (Feb 1986).
Grosz, Peter. M. LFG Roland C.II Windsock Datafile 49, Colours and Markings compiled by Ray Rimmel, scale drawings by I. R. Stair, color profiles by Ray Rimmel. Berkhamsted, UK: Albatros Productions, 1995.
Grosz, Peter. M. The Roland C.II, Profile No. 163. Surrey England UK: Profile Publications, 1967.
Hoeppner, Ernest v., General of Cavalry. Germany's War in the War - The Development and Operations of German Military Aviation in the World War. Nashville: The Battery Press, 1994.
Imrie, Alex. Pictorial History of the German Army Air Service 1914-1918. Chicago, IL: Henry Regnery Company, 1971.
Mertens, Emil. Die Flieger-Abteilung (A) 235) im Weltkrieg. Zeulenroda, Thüringen, Germany: Bernhard Sporn, 1928.
Reichsarchiv. Der Weltkrieg 1914-1918, Band 4, Der Herbst-Feldzug 1914. Berlin: Mittler & Sohn, 1929.
Rottgardt, Dirk. German Armies' Establishments 1914/18, Volume 6: Signals and Air Forces. West Chester OH: The Nafziger Collection, Inc., 2007.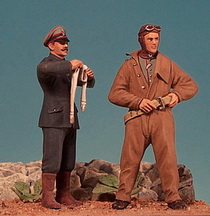 Hecker & Goros HGEW01 54mm German Aviator and Crew Chief
GO TO?